October is Black Speculative Fiction month. Oakland Public Library has books to keep you engaged throughout the month and beyond. Highlighed below are some of the authors, titles and series that you can find on our shelves.
All descriptions are provided by the publishers.
Parable of the sower : a novel / Octavia E. Butler ; introduction by Gloria Steinem
When unattended environmental and economic crises lead to social chaos, not even gated communities are safe. In a night of fire and death, Lauren Olamina, an empath and the daughter of a minister, loses her family and home and ventures out into the unprotected American landscape. But what begins as a flight for survival soon leads to something much more: a startling vision of human destiny...and the birth of a new faith, as Lauren becomes a prophet carrying the hope of a new world and a revoltionary idea christened "Earthseed".
Parable of the talents / Octavia E. Butler
In the wake of environmental and economic chaos, the U.S. government turns a blind eye to violent bigots who consider the mere existence of a black female leader a threat. And soon Lauren must either sacrifice her child and her followers -- or forsake the religion that can transform human destiny.
Lilith's brood / Octavia E. Butler
This volume contains all three parts of the trilogy: Dawn, Imago and Adulthood Rites. Lilith Iyapo is in the Andes, mourning the death of her family, when war destroys Earth. Centuries later, she is resurrected -- by miraculously powerful unearthly beings, the Oankali. Driven by an irresistible need to heal others, the Oankali are rescuing our dying planet by merging genetically with mankind. But Lilith and all humanity must now share the world with uncanny, unimaginably alien creatures: their own children. This is their story...
Kindred / Octavia E. Butler
Dana, a modern black woman, is celebrating her twenty-sixth birthday with her new husband when she is snatched abruptly from her home in California and transported to the antebellum South. Rufus, the white son of a plantation owner, is drowning, and Dana has been summoned to save him. Dana is drawn back repeatedly through time to the slave quarters, and each time the stay grows longer, more arduous, and more dangerous until it is uncertain whether or not Dana's life will end, long before it has a chance to begin.

Wild seed / Octavia E. Butler
Doro is an entity who changes bodies like clothes, killing his hosts by reflex -- or design. He fears no one -- until he meets Anyanwu. Anyanwu is a shapeshifter who can absorb bullets and heal with a kiss...and savage anyone who threatens those she loves. She fears no one -- until she meets Doro...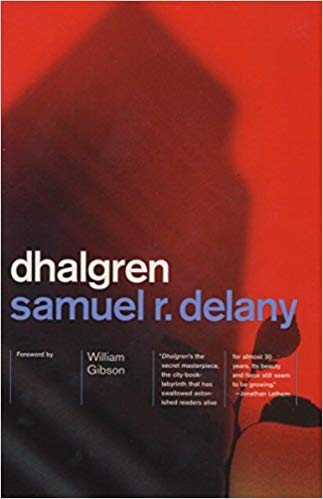 Dhalgren / Samuel R. Delany
Bellona is a city at the dead center of the United States. Something has happened there…. The population has fled. Madmen and criminals wander the streets. Strange portents appear in the cloud-covered sky. And into this disaster zone comes a young man–poet, lover, and adventurer–known only as the Kid. Tackling questions of race, gender, and sexuality, Dhalgren is a literary marvel and groundbreaking work of American magical realism.
The Einstein intersection / Samuel R. Delany
The surface story tells of the problems a member of an alien race, Lo Lobey, has assimilating the mythology of earth, where his kind have settled among the leftover artifacts of humanity. The deeper tale concerns, however, the way those who are "different" must deal with the dominant cultural ideology.


My soul to keep : a novel / Tananarive Due
When Jessica marries David, he is everything she wants in a family man: brilliant, attentive, ever youthful. Yet she still feels something about him is just out of reach. Soon, as people close to Jessica begin to meet violent, mysterious deaths, David makes an unimaginable confession: More than 400 years ago, he and other members of an Ethiopian sect traded their humanity so they would never die, a secret he must protect at any cost.
The living blood / Tananarive Due
Jessica Jacobs-Wolde has survived the deaths of her husband and first daughter. But now, four years later, not only is the nightmare continuing -- it may have only just begun. Jessica has discovered the terrifying truth behind the legacy that her husband left to their second daughter, Fana...a legacy preordained a thousand years before her time and drenched in the powerful lifeblood that now courses through her veins.
Blood colony / Tananarive Due
Said to heal almost any illness, Glow gets its power from the blood of immortals, and it's up to the Blood Colony, a small but powerful group of immortals, to keep the supplies coming so that AIDS and other diseases will be wiped out. Fana Wolde, seventeen years old, is the only immortal born with the Living Blood. When her best friend, a mortal, is imprisoned by Fana's family, Fana helps her escape and together they run away from Fana's protected home to join the Underground Railroad of Glow peddlers who are being murdered by a violent, hundred year- old sect with ties to the Vatican. Now Fana is being hunted to fulfill an ancient blood prophecy that could lead to countless deaths.
My soul to take / Tananarive Due
Fana, an immortal with tremendous telepathic abilities, is locked in a battle of wills. Her fiancé is Michel. But Johnny Wright, a mortal who is in love with her, believes that if she doesn't stay away from Michel, they will become the Witnesses to the Apocalypse described in the Book of Revelation.



Falling in love with hominids / Nalo Hopkinson
Whether she is retelling The Tempest as a new Caribbean myth, filling a shopping mall with unfulfilled ghosts, or herding chickens that occasionally breathe fire, in these stories Hopkinson creates bold fiction that transcends boundaries and borders.

Sister mine / Nalo Hopkinson
Now adults, Makeda and Abby still share their childhood home. The surgery that separated the two girls soon after their birth gave Abby a permanent limp, but left Makeda with what feels like an even worse deformity: no mojo. The daughters of a celestial demigod and a human woman, Makeda and Abby were raised by their magical father, the god of growing things--a highly unusual childhood that made them extremely close. Ever since Abby's magical talent began to develop the sisters have become increasingly distant.
The new moon's arms / Nalo Hopkinson
Calamity, a woman as contrary as the tides around her Caribbean island home, is confronting two of life's biggest dramas. First is the death of her father, who raised her alone until a pregnant Calamity rejected him when she was sixteen years old. The second drama: she's starting menopause. Now when she has a hot flash and feels a tingling in her hands, she knows it's a lost object calling to her. Then she finds a four-year-old boy washed up on the shore, his dreadlocked hair matted with shells. Calamity decides to take the orphaned child into her care, which brings unexpected upheaval into her life.
Brown girl in the ring / Nalo Hopkinson
The rich and privileged have fled the city, barricaded it behind roadblocks, and left it to crumble. The inner city has had to rediscover old ways--farming, barter, herb lore. But now the monied need a harvest of bodies, and so they prey upon the helpless of the streets. With nowhere to turn, a young woman must open herself to ancient truths, eternal powers, and the tragic mystery surrounding her mother and grandmother.

N.K. Jemisin: The Inheritance Trilogy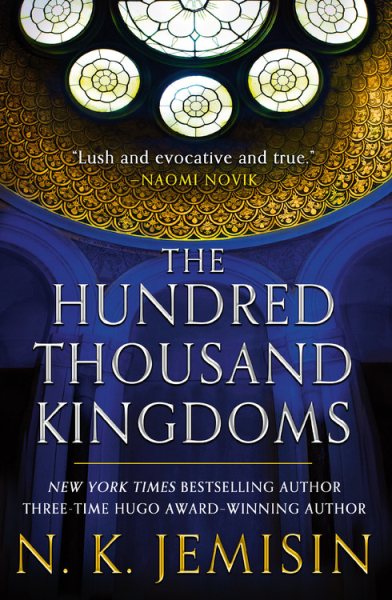 The hundred thousand kingdoms / N.K. Jemisin
Yeine Darr is an outcast from the barbarian north. But when her mother dies under mysterious circumstances, she is summoned to the majestic city of Sky. There Yeine is named an heiress to the king. But the throne of the Hundred Thousand Kingdoms is not easily won, and Yeine is thrust into a vicious power struggle with cousins she never knew she had. Fighting for her life, she draws closer to the secrets of her mother's death and her family's bloody history.

The broken kingdoms / N.K. Jemisin
In the city of Shadow, beneath the World Tree, alleyways shimmer with magic and godlings live hidden among mortalkind. Oree Shoth, a blind artist, takes in a strange homeless man on an impulse. This act of kindness engulfs Oree in a nightmarish conspiracy.
The kingdom of gods / N.K. Jemisin
For two thousand years the Arameri family has ruled the world by enslaving the very gods that created mortalkind. Now the gods are free, and the Arameri's ruthless grip is slipping. Yet they are all that stands between peace and world-spanning, unending war.

Nnedi Okorafor: Binti Trilogy
Binti / Nnedi Okorafor
Binti is the first of the Himba people to be offered a place at Oomza University, the finest institution of higher learning in the galaxy. But to accept the offer will mean giving up her place in her family to travel between the stars among strangers who do not share her ways or respect her customs. The world she seeks to enter has long warred with the Meduse, an alien race that has become the stuff of nightmares. Oomza University has wronged the Meduse, and Binti's stellar travel will bring her within their deadly reach. To survive, she will need the gifts of her people and the wisdom enshrined within the University.
Binti : home / Nnedi Okorafor
It's been a year since Binti and Okwu enrolled at Oomza University. A year since Binti was declared a hero for uniting two warring planets. A year since she found friendship in the unlikeliest of places. And now she must return home to her people, with her friend Okwu by her side, to face her family and face her elders. But Okwu will be the first of his race to set foot on Earth in over a hundred years, and the first ever to come in peace.
Binti : the night masquerade / Nnedi Okorafor
Binti has returned to her home planet, believing that the violence of the Meduse has been left behind. Unfortunately, although her people are peaceful on the whole, the same cannot be said for the Khoush, who fan the flames of their ancient rivalry with the Meduse.

Kabu-kabu / Nnedi Okorafor
Kabu kabu—unregistered illegal Nigerian taxis—generally get you where you need to go. In these short stories, Nnedi Okorafor's Kabu Kabu, however, takes the reader to exciting, fantastic, magical, occasionally dangerous, and always imaginative locations you didn't know you needed.

Who fears death / Nnedi Okorafor
In a post-apocalyptic Africa, the world has changed in many ways; yet in one region genocide between tribes still bloodies the land. A woman who has survived the annihilation of her village and a terrible rape by an enemy general wanders into the desert, hoping to die. Instead, she gives birth to an angry baby girl with hair and skin the color of sand. Gripped by the certainty that her daughter is different—special—she names her Onyesonwu, which means "Who fears death?" in an ancient language.

Imaro / Charles Saunders ; featuring an introduction by Charles De Lint
Saunders' novel is inspired by and addresses the alienation of growing up an African American fan of Science Fiction and Fantasy through its structure (via its unique setting) and thematically (via its alienated, tribeless hero-protagonist). The tribal tensions and histories presented in this fantasy novel reflect actual African tribal histories and tensions, and provide a unique perspective to current and recent conflicts in Africa.
Anthologies


Mothership : tales from afrofuturism and beyond / editors, Bill Campbell and Edward Austin Hall
Octavia's brood : science fiction stories from social justice movements / edited by Walidah Imarisha and adrienne maree brown ; foreword by Sheree Renée Thomas
Dark matter : a century of speculative fiction from the African diaspora / edited by Sheree R. Thomas
Dark matter : reading the bones / edited by Sheree R. Thomas

Afrofuturism : the world of black sci-fi and fantasy culture / Ytasha L. Womack
What are your favorite Black Speculative Fiction titles? Do you have a favorite author that you can't find in our catalog? Let me know and we'll do our very best to add it to our collection.