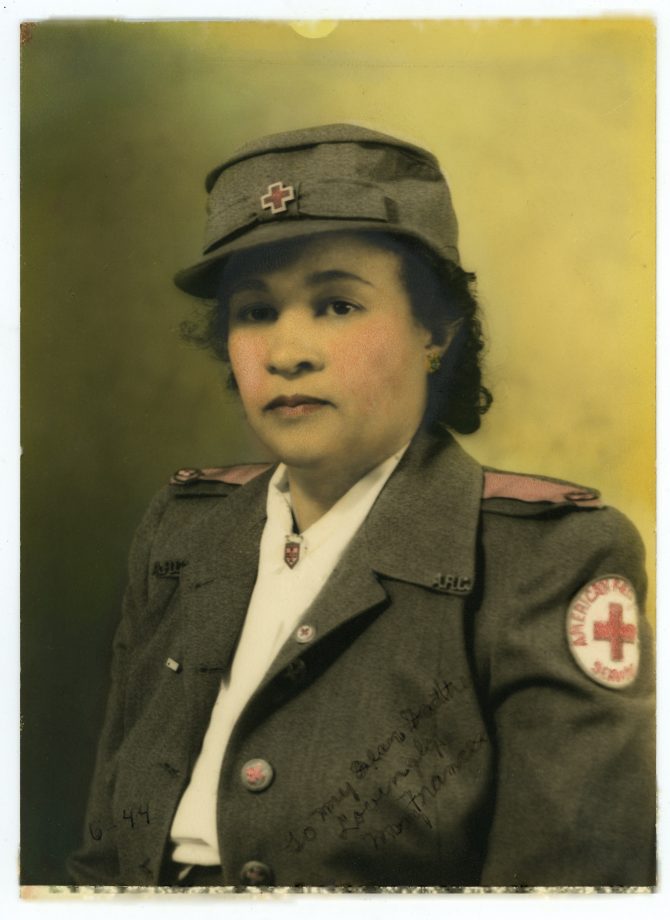 Social activist Frances Albrier (1898-1987) was born on September 21, 1898 in Mt. Vernon, New York to Lewis L. and Laura Redgray. During the late 1930s, Albrier became active in a number of different political and civil rights issues. In 1938, she became the first woman elected to the Alameda County Democratic Central Committee. The following year she became the first woman to run for the Berkeley City Council, led the Citizen's Employment Council's "Don't Buy Where You Can't Work" campaign, and organized the East Bay Women's Welfare Club, a women's group which advocated for the hiring of black teachers in the Berkeley Unified School District. During the 1940s, she continued to be active in a number of women's, civil rights, and union organizations while serving as a first aid instructor in the American Red Cross. After her application to become a welder was denied because blacks did not have an auxiliary union in Richmond, she garnered political pressure in the black community forcing Kaiser Shipyards to hire her making her the first black woman welder during the war.
The Frances Albrier papers include correspondence, legal and financial records, awards, photographs, records of civic organizations and women's clubs, and assorted printed material documenting Albrier life and participation in various civic organizations and women's clubs in the San Francisco Bay Area.
Dates: 1895-1987
Collection number: MS 108
Creator: Albrier, Frances Mary, 1898-1987.
Collection Size: 7.9 linear feet (7 boxes + 2 oversized boxes)
Guide to the Frances Albrier Papers
Available at the African American Museum & Library at Oakland (AAMLO)
We encourage researchers to contact AAMLO before visiting so that we can be prepared to assist you. Please call 510-637-2000 or email aamlo@oaklandlibrary.org to arrange an appointment or inquire about access.