This program is temporarily on hold and no trainings are currently scheduled.
For more information, please contact the Books for Wider Horizons coordinator, Rochelle Venuto,  at: rvenuto@oaklandlibrary.org.
---
Books for Wider Horizons is a program that recruits, trains, and places volunteer story readers in preschool or childcare centers throughout the City of Oakland. Originally a partnership between the Oakland Public Library and the City's Youth Services, this program began in 1994 and has provided weekly story reading by volunteer readers to all Oakland Head Start Centers.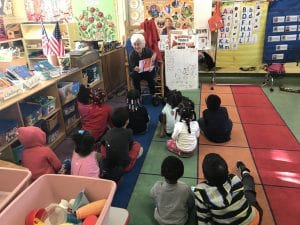 Supporting early literacy development and nurturing the lifelong love of reading for young children has been a major service goal for Oakland Public Library Children's Services. The Books for Wider Horizons volunteer readers support this goal by providing weekly reading experience to thousands of young children in Oakland.
Our volunteer readers come from all backgrounds and age groups, from students and seniors to professionals on their lunch breaks. Bilingual readers are able to provide multi-lingual storytime experience and also provide the needed language support at many centers where children speak English as a second language.