Online Events are Happening!
We'll be adding in-person events as COVID-19 conditions allow.
Here's a sampling of the different types of events we offer:
OPL features talks on special topics from local experts.
To name just a few: we've hosted Satura Ned's talk on Black Panther Party History in Oakland, Dale Tafoya's discussion of his book, "Billy Ball: Billy Martin and the Resurrection of the Oakland A's", and East Bay Regional Park naturalist Constance Taylor's presentation "Roots-eye View: A Story of Oakland in Trees."
Right now we are hosting some fascinating speakers online. Join us!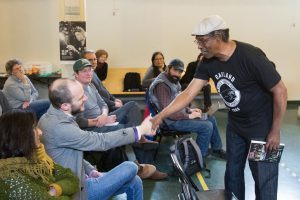 Oakland History Center Events