Interested in booking a poet for an event or performance? Fill out the Booking Request form:
Note: Booking is handled by OPL's Teen Services Department and dependent on availability.
Please allow up to five business days for a response. Requests that are made at least three weeks in advance are more likely to be filled.
2023 Oakland Youth Poet Laureate, Nairobi Barnes, talks about her craft, role models, and more in this interview with Shanga Goman.
OYPL FAQs
You can visit your local library or school and use the internet there to submit your online application.

Finally, if you have no other means to submit your application online, a paper application is available for you to download and mail in.

OYPL 2023 Application Paper Version

Contact us to send you one by snail mail:
510-761-7636 or
OYPL
Teen Services, Oakland Public Library
125 14th St.
Oakland CA 94612

The Laureate represents Oakland and its youth at public and private events and is a model for other youth. They also share their experiences with the press and through blogs, videos, and social media.  

The Laureate will have the opportunity to develop their own poet-leader project.

Everyone who applies will be invited to enter into a community of young poets and youth advocates.

Yes, you do. You cannot complete the application without a Google account.

You can get one here: https://accounts.google.com/SignUp.

In the application, please give us the email address you check most often; you do not have to use your Gmail address for your contact email. 

There are five judges, representing a diverse group of experts from literacy, arts and educational organizations as well as local celebrity authors, artists and activists.

Past judges have included:

U.S. Poet Laureate Juan Felipe Herrera
poets and playwrights Chinaka Hodge and Aimee Suzara
community organizer and Poetry for the People alum Maria Poblet
NAACP image award nominee Arisa White
KQED Columnist Pendarvis Harshaw
award-winning writer MK Chavez
former Oakland City Councilmember Wilson Riles
Hip Hop for Change Founder and Executive Director Kahfre Jay
author, musician, educator, and community organizer Tyson Amir
pianist, emcee, producer, music historian, and teacher Kev Choice
poet, editor, and educator Maw Shein Win
founder and executive director of Nomadic Press, J.K. Fowler
former Oakland Youth Poets Laureate and Finalists
Alameda County Youth Poet Laureate
many other local authors and community leaders

You can get to know out our most recent panel of judges.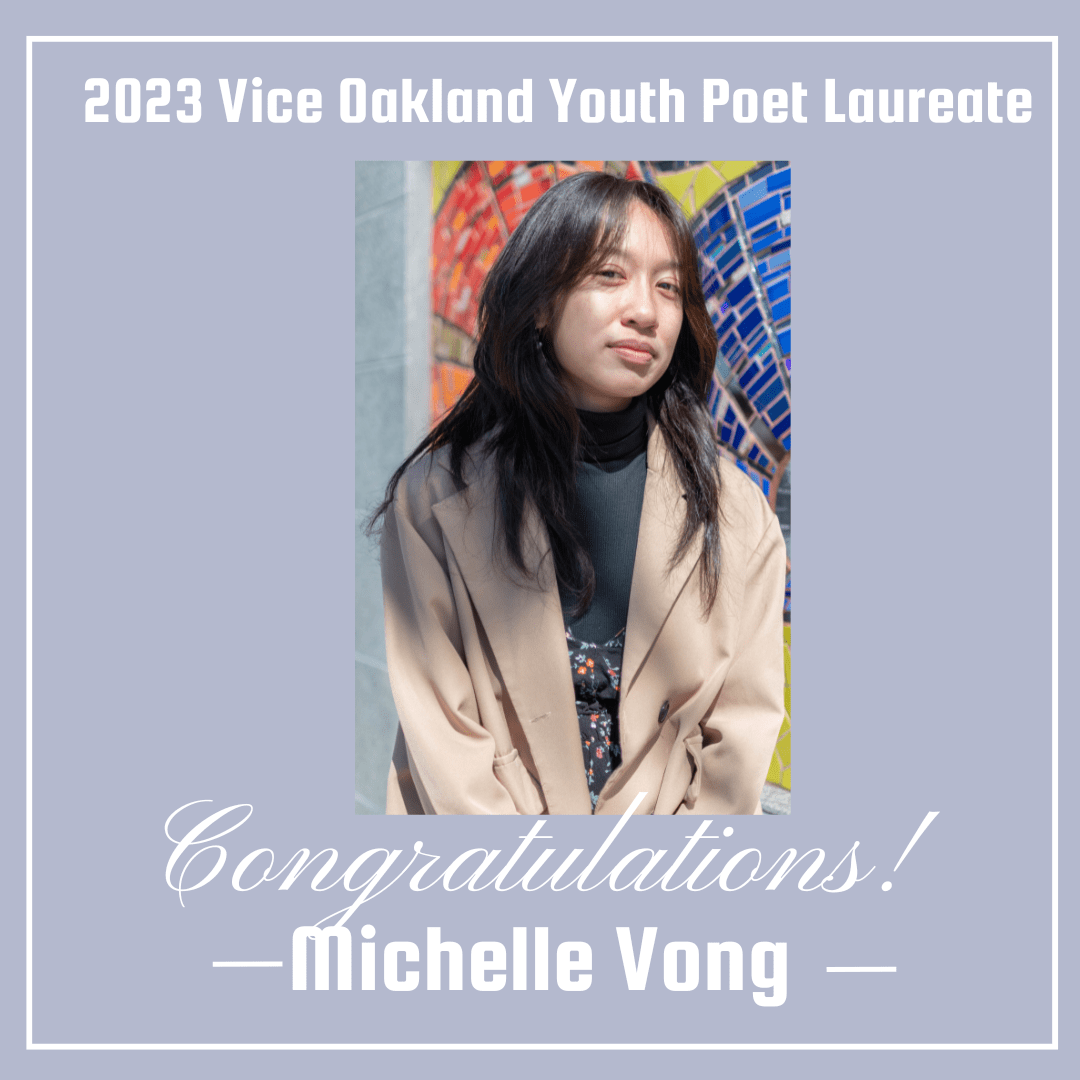 OYPL Event
These resource have inspired Oakland Youth Poet Laureates to start writing—and keep writing. We hope they'll inspire you.
What have the OYPL poets been up to?
The Oakland Youth Poet Laureate poets have accomplished so much. This community of amazing teens have shared their talents with Oaklanders of all ages, and with people from far beyond Oakland.
Please celebrate their words, their truths, their stories, and all that they've accomplished.
OYPL poets are able to perform, speak, host workshops, plan projects, & share their truths in many ways. See what they've accomplished!
Each year we have not only an Oakland Youth Poet Laureate and Vice Laureate. There are also Finalists who join our community of young poets.
Meet the incredible members of our community who judged this year's Oakland Youth Poet Laureate entries.
Subscribe to get occasional news about the
Oakland Youth Poet Laureate Program.
(Make sure to select Oakland Youth Poet Laureate in the Programs section.)