Library Card FAQs
If you apply for your library card online you will have immediate access to your library card number and can use that to access most electronic resources, and to reserve and use computers in the library.

You won't be able to borrow physical materials until you verify your identification.

Your card will expire in 30 days. You must verify your identification with library staff before the expiration date to continue to use your card.

You create a PIN when you apply for a library card. Your PIN is a four-digit number.

 

 

You can reset your PIN by logging into your BiblioCommons account and looking under My Settings.
FAQs
OPL program locations are wheelchair accessible. To request disability-related accommodations or to request American Sign Language (ASL), or other forms of interpretation, please call the event contact, or 510-238-3254 (TTY) at least five (5) working days before the event. Please refrain from wearing scented products as a courtesy to attendees with chemical sensitivities. //

Las sucursales con eventos de OPL tienen accesibilidad para sillas de ruedas. Para solicitar adaptaciones relacionadas con discapacidades o para solicitar lenguaje de señas americano (ASL) u otras formas de interpretación por favor de comunicarse al contacto del evento o al (510) 238-3254 (TTY) al menos cinco (5) días laborales antes del evento. Por favor absténgase de usar productos perfumados como cortesía a los asistentes con sensibilidades químicas. //

OPL 活動地點可供輪椅通行。如想要求為殘疾人士提供服務, 或美國手語 (ASL)服務,或其他語言翻譯服務,請至少在五 (5) 個工作天前致電(510) 238-3254 (TTY) 。 為考慮對化學品敏感的與會者的需求,參加活動時請勿佩戴有氣味的產品。

Bathrooms are for all genders at these locations:

Dimond Branch
Eastmont Branch
Golden Gate Branch
Martin Luther King, Jr. Branch
Melrose Branch
Montclair Branch
Piedmont Branch
Rockridge Branch
Temescal Branch

81st Avenue Branch has one all gender bathroom and four gender-specific bathrooms.

Main Library has all gender bathrooms on the basement level and gender-specific bathrooms on the mezzanine.

These locations have Men's and Women's bathrooms:

African American Museum and Library at Oakland (AAMLO)
Brookfield Branch
Chávez Branch
West Oakland Branch

At these locations, staff can provide directions to nearby public bathrooms, which are gender-specific:

Asian Branch
Lakeview Branch

At these locations, staff can provide directions to nearby public bathrooms, which are for all genders:

Elmhurst Branch
Tool Lending Library

You can add a designated borrower to have someone check out for you. Ask staff at any location to add this to your account.

If you are not able to come to the library because of a disability and want to apply for Extended Services, contact staff at any location.

You can use the Oakland Public Library from anywhere you have internet access. You can sign up for a library card online, then download or stream digital books and movies, watch our online programs, get book recommendations, and so much more from home!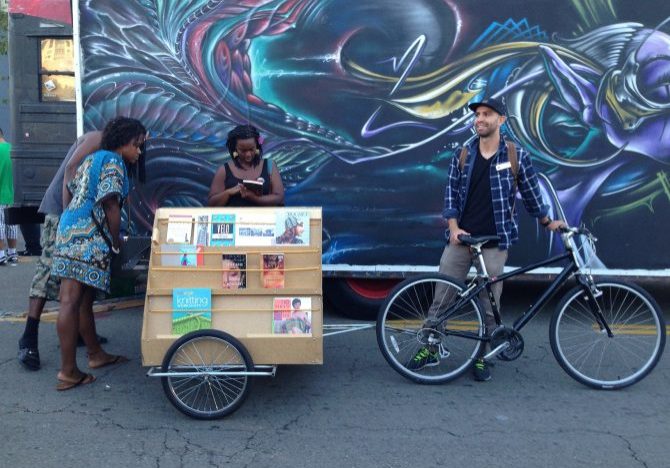 Designated Borrowers cannot:
Update or access information on your account

Use a library computer with your account
Ask staff at any location to add a designated borrower for you.
Download a Printable Card Application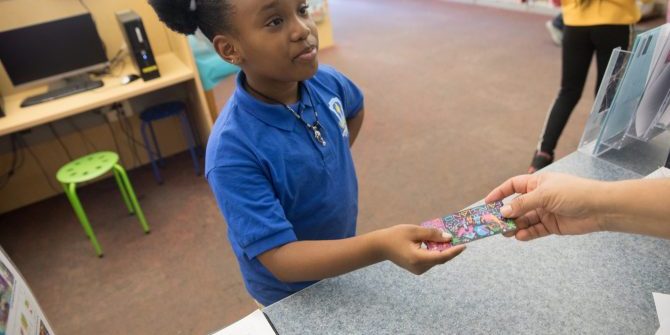 Teachers & Educator Resources
We've got all the information you need about class visits, getting your students library cards, and books for your classes.