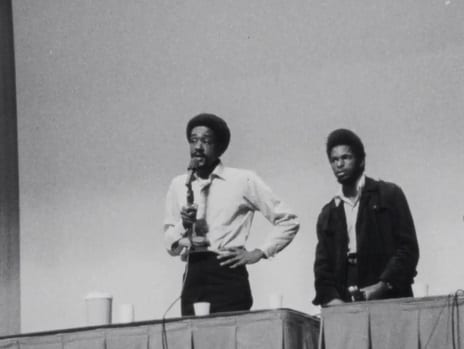 The Henry Williams Jr. Film Collection consists of 175 films and 3 reel-to-reel audiotapes mostly documenting the Black Panther Party and student and union protest movements of the late 1960s.
The collection is organized into five series: Series I: Black Panther Party films; Series II: Union and student protest films; Series III: British films; Series IV. Chinese films; Series V. Assorted films. The Black Panther Party film reels include outtakes and b-roll footage shot in preparation of the California Newsreel film MayDay and includes film footage of Kathleen Cleaver, Bobby Seale, Huey Newton, and other party leaders. The union and student protest series consists of assorted footage of protest rallies in the late 1960s and 1970s, and includes footage of Vietnam War protests, UAW and OCAW union strikes, the Farah Manufacturing Company strike of 1972, and student protests at high schools in Oakland, California following the police shooting of Melvin Black in 1979. British films include six educational and newsreels from the 1940s-1950s and four unidentified Chinese films. The assorted series consists of 59 films of stock footage, educational films and unidentified films. For the unidentified films, a short description of the initial film frames has been supplied by the cataloger in brackets.
Dates: 1937-1979
Collection number: MS 195
Collector: Williams, Henry Jr.
Collection Size: 7 linear feet (6 boxes)
Guide to the Henry Williams Jr. Film Collection
Available at the African American Museum & Library at Oakland (AAMLO)
We encourage researchers to contact AAMLO before visiting so that we can be prepared to assist you. Please call 510-637-2000 or email aamlo@oaklandlibrary.org to arrange an appointment or inquire about access.