---
The Rev. Dr. Martin Luther King Jr. was no stranger in Oakland, visiting on several noted occasions during his lifetime. These engagements included a historic address delivered at the Oakland Auditorium on December 28, 1962, to a crowd of over 7,000 attendees. Marking the eve of the 100th anniversary of the Emancipation Proclamation, Dr. King expanded on themes that would soon become famous in his "I Have a Dream" speech at the March on Washington. As reported by Newsweek and Jet, King used the Oakland centennial address to announce his support for a nationwide selective-buying campaign to boycott products of discriminatory firms.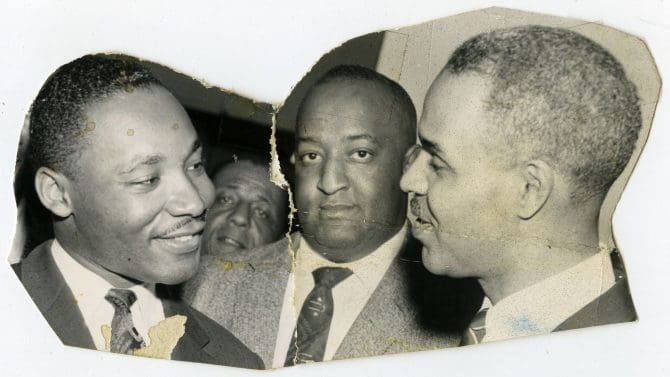 The NAACP and the East Bay Ministerial Fellowship had also welcomed Dr. King to the Oakland Auditorium several years earlier. On June 23, 1957, King delivered his speech, "A Realistic Look at the Question of Progress in the Area of Race Relations," which was later revised for audiences at Kiel Auditorium in St. Louis and at the Metropolitan Baptist Church in Memphis. Although a transcript of King's 1957 Oakland address wasn't recorded, handwritten notes (by an audience member) of the speech are held in AAMLO's archives that document his gratitude for the East Bay's support in the Montgomery bus boycott.
Some have written how Dr. King used his Oakland addresses to workshop and refine the messages of later speeches, including his famed expression, "the bank of justice is bankrupt." Black Panther Party co-founder Bobby Seale recalls the direct impact hearing King's economic remarks had on his thinking (and later Panther boycotts and food survival programs):
"I went to hear Dr. King speak for the first time in 1962 at the Oakland Auditorium. I was an engineering and design major at college and I wasn't a part of any organization yet. The auditorium held 7000 people and every seat was packed. He was speaking about boycotting the bread companies that were refusing to hire people of color. He said "We're going to boycott them so consistently and so profoundly, we're going to make Wonder Bread wonder where the money went." I got so enthusiastically involved with the civil rights movement after Martin Luther King inspired me." (Bobby Seale interview with Kyle Long, Power to the People: The World of the Black Panthers)
Others have noted how Dr. King's overall appearances in the Bay Area galvanized Black political thought locally. These visits included stops to Oakland at Evergreen Baptist Church (1957), Mills College (1958), to fundraise for the Southern Christian Leadership Conference (1961), at Bethel Baptist Church (1967) and to meet with those imprisoned after the October 1967 Stop-the-Draft Week demonstrations. King's final trip to the Bay came in January 1968, when he visited Joan Baez and others who were serving 45 day sentences in Santa Rita Prison for a nonviolent sit-in at the Oakland Draft Board. As Rev. Ray Williams, of Morning Star Baptist Church, told the Oakland Post of King's local public lectures and appearances:
"The predominantly Black audience[s] signaled for a political awakening that set the stage for the elections of Attorney Thomas Berkley and Barney Hilburn to the Oakland Board of Education, and Byron Rumford to the State Assembly." (Reverend Ray Williams, "Dr. King's "Bank of Justice is Bankrupt" Speech Was Tested in Oakland in 1962," Oakland Post)
AAMLO will celebrate the long legacy of Dr. King in Oakland, and beyond, this year with two virtual events. On Saturday, January 15, AAMLO's Chief Curator Bamidele Agbasegbe-Demerson, examines how Black painters and sculptors have depicted Rev. Dr. Martin Luther King Jr. in Our King: African American Artists and the Iconic Champion for Civil Rights. Then join AAMLO on Monday, January 17, for the annual Martin Luther King Jr. Day Virtual Film Festival. You can view the recommended films through Kanopy using your Oakland Public Library card, before joining for a community discussion.
Recommended films include:
A. Philip Randolph: For Jobs and Freedom
Brick by Brick: A Civil Rights Story
Martin Luther King, Jr: Been to The Mountaintop
Courageous People Who Changed the World (Kanopy Kids)
Martin's Big Words (Kanopy Kids)
---