The Oakland History Center is probably not the first place you turn for gardening inspiration, but if that's what you're looking for you'll be happy to hear that we have some great resources available. One source of floral inspiration to be found here is in materials about Oakland's annual California Spring Garden Show, first held in 1930. In its heyday the show was considered the best garden show on the West Coast. Attendees came from near and far, and railroads even offered special discount fares for passengers heading to the show. 
The show was big and spectacular, with a huge building of exhibits, waterfalls, and everything built to impress. The show was so popular that it quickly outgrew its first two locations, and by 1933 it took over both interior and exterior areas of the enormous Exposition Building, former neighbor of the Oakland Auditorium. Although the show scaled back in 1956, and changed venue when the Exposition building was demolished in 1970, the show eventually found a new home at the Dunsmuir Hellman Estate where it continued through the 1970s.
Each year's garden show had a theme - like "Ancient Gardens of Alhambra" in 1932, "Rainbow Waters" in 1955, and "Flags and Flowers" in 1976. The features of the show included displays by local garden clubs and nurseries, competitions for best home-grown flowers, horticultural displays showing the many varieties of a plant, vendors selling all manner of plants and garden equipment, and more. There were special exhibits throughout the years, like an outdoor aviary of native birds, flower-centric table setting designs, and the debut of new sets for Children's Fairyland.  
Here in the Oakland History Center you can find a series of albums showing beautiful black and white photographs from 20 years of Garden Shows, from 1931-1955. The albums, which served as souvenir programs for the show, have the best overview of each year's show and give great views of things like giant mushrooms, enormous waterfalls, and the many other structures built for the show. However, looking at flowers in black and white admittedly leaves something to be desired. Luckily you can also see a smaller selection of color postcards from the show in our postcard collection. Here are a few highlights from the postcards, in both black and white and full color.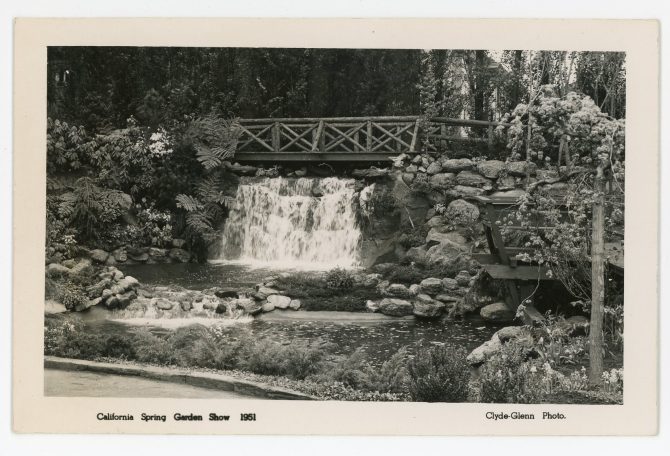 Stop by the Oakland History Center to learn more about the California Spring Garden Show. While you're here, don't forget to grab some free seeds from the seed library, opens a new window downstairs. Maybe by next year you'll have enough impressive plants to start a Spring Garden Show of your own!