Using funds from the American Rescue Plan Act, the California State Library has launched CAreer Pathways to help Californians learn new job skills and more. Public libraries across the state are giving patrons access to a wide variety of online classes and training. Here's what OPL has to offer:
---
Coursera offers video courses and certificates from leading universities and corporations to help users develop their current careers or start new careers in high-demand industries.
Meant for: working adults
What's hot: earn professional certificates from industry leaders on using their products, like Google Analytics, Facebook Social Marketing, and Salesforce Sales Operations.
To get started: Sign up through the Coursera page from the California State Library. Enter your name, e-mail address, and ZIP code, then choose "Oakland Public Library" to begin accessing platform. (Note: link updated October 2022)
Note: Trial subscription provides 6 months of access per email address.
---
GetSetUp provides live online courses for seniors to help reduce isolation and build community, with a spotlight on peer-led learning: all instructors must be seniors too. Classes are offered day and night.
Meant for: adults 50+, taught in English, Spanish, Hindi, and Mandarin
What's hot: "Talk'n About Dogs," a social hour for users and their canine friends
To get started: Go to GetSetUp OPL, create an account, and start booking classes with our coupon code: CSL-Oakand
---
LearningExpress offers tutorials, tests, ebooks, and more on a wide variety of academic and professional topics.
Meant for: school age kids to adults, taught in English and Spanish
What's hot: All kinds of test prep: GED, college entrance, professional exams, citizenship exams, and more.
To get started: Click on LearningExpress OPL, then enter your library card and PIN if prompted. Select a module and then a tutorial or practice study. Once you begin working on a tutorial or practice test, you will be prompted to either sign in or register as a new user.
---
LinkedIn Learning, formerly Lynda.com, features video courses in technology and business skills, from "soft skills" like communication to "hard skills" like Python and SQL.
Meant for: working adults, with videos available in English, French, German, Japanese, Spanish, Mandarin, and Portuguese (note that some courses and features may not be translated).
What's hot: The 3 most popular classes for 2021 were "Unconscious Bias," "Strategic Thinking," and "Excel Essential Training."
To get started: Sign in to LinkedIn Learning OPL with your library card number and PIN, and start exploring the courses, certificates and other types of learning available. You can also download an easy-to-use app from the  Apple App Store or Google Play store for your mobile device.
---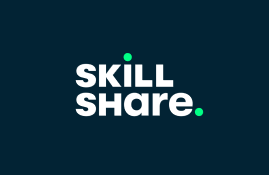 SkillShare supports creatives with over 35,000 video courses on everything from animation to web development. Develop specific skills sets, then learn how to make your creativity pay off with classes on freelancing and entrepreneurship.
Meant for: adults and young adults
What's hot: With many classes under 20 minutes, even the busiest users can squeeze in personal and professional development.
To get started: Create a free account with your name, email, and password; or sign in with Facebook, Google, or Apple: SkillShare OPL. (Note: link updated October 2022)
---
Northstar teaches the basic skills needed to use a computer and the internet, whether at school, at work, or in daily life. Through assessments and online tutorials, users can zero-in on areas that need improvement.
Meant for: anyone not familiar with computers / with low digital literacy
What's hot: Starting from the very beginning--learn basic computer skills, how to use the Internet, and how to use email. Or get help with online job searches and applications
To get started: Sign up at Northstar OPL and click on the "Get Started" button. Enter your name in the test taker area and start taking assessments. If you need help signing up, call a reference librarian at (510) 238-3138.
---
These trial subscriptions come with the possibility of renewal—and that's why we need to hear from you! If you try any of these platforms, please also fill out the CAreer Pathways feedback form.
If you have any questions, give us a call at (510) 238-3138. Happy learning!