Posted by Amy Martin on Tuesday, October 7th, 2014
Self publishing secrets! and how one author did it right.
If you're one of the many children's book creators who've turned to self publishing to get their stories out, pay attention! A small change may improve your book's chances of getting picked up by libraries. 
Brooklyn based author Zetta Elliott self publishes children's books that are transitional chapter books--longer than easy readers, shorter than middle-grade novels. The Oakland Public Library calls them "Moving Up," and they have their own special place on our shelves.
Notice how they're all about the same size? That's on purpose-- major publishers tend to print them all this way. Transitional chapter books represent a reader's transition from easy readers--which are larger, slimmer, and shorter in text than moving ups, and include color illustrations on almost every spread--to middle grade novels, which vary in length as much as adult novels and have few to no illustrations. Moving Ups still have illustrations on almost every spread, but they're black and white now, and the pages have larger blocks of text than the few short sentences typical of easy readers.
Back to Zetta Elliott: Elliott recently sent a new edition of her transitional chapter book Max Loves Muñecas! to OPL, at a trim size and page count that matches what we typically see in our Moving Up collection. Here's how it looks side-by-side with the previous edition: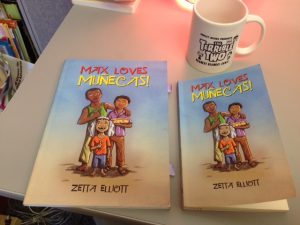 Elliott reduced the size of Max Loves Muñecas! from 7x10" to 5x8", and suddenly we have a transitional chapter book that will fit right in on our Moving Up shelf. Note the difference:
Max's format now matches the length and reading level of its text, and the book doesn't look out of place on our shelf. It's easier for libraries to consider a self published book for our collections when its format matches what we get from traditional publishers.
Here's an exercise for you self publishers: take your book to your local library, and see if you can find the section it would belong in. Would your book look out of place among the titles already there? Read some of the books in your book's "section"--does the amount of text, difficulty of text, and complexity of story in your book match the ones we own? 
By the way, if you self publish children's books and the descriptors "easy reader," "transitional chapter book," and "middle grade" are new to you, you have some research to do. May I recommend starting at your local library?