Mobile Checkout with cloudLibrary 
Use the cloudLibrary, opens a new window app to store your virtual library card and use it for any library transaction that usually requires a physical card. Check out books, place holds, and manage your family's cards, all with your phone.
To use cloudLibrary: 
Download the app

Log in to our library

 

Select the state and Oakland Public Library.

 

Enter barcode and PIN number

 

Use your card

 

Checkout, place holds, see your borrowed items, reading history and more!

 

Set up notifications that work for you

 

Add any card that you have access to, and switch between accounts

 
Inside the library, use the app to skip the checkout line and self-checkout machine. Simply follow instructions in the app to scan and checkout your items with your phone, and you are good to go!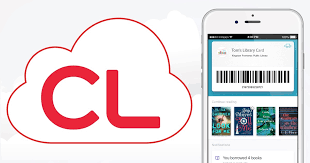 FAQs
You create a PIN when you apply for a library card. Your PIN is a four-digit number.

 

 

You can reset your PIN by logging into your BiblioCommons account and looking under My Settings.

Your checkout history is not kept on your personal account. If an item is overdue, a record of the title will remain on your account.

OPL staff will not release check-out history unless presented with a warrant or subpoena by law enforcement

.

OPL protects library user account information by placing it on a secure server. OPL keeps very limited records of your borrowing activities. Returned items stay on the item's record for the rare occasions that we may need to contact you about the item.

As a patron, you may choose to enable the "Borrowing History" option on your account. By selecting this option, you choose to give explicit consent to storing your check-out history from the opt-in date. Library staff DO NOT have access to the Borrowing History. You can opt out of this service and delete your Borrowing History at any time.

All library cards expire every 3 years. You can renew your card by calling, emailing, or visiting any Oakland Public Library location

. You will need to give us your current address.

 

If you got your library card online, it will expire in 30 days. You need to verify your identification before that expiration date.

 

You will not be able to borrow OPL or LINK+ materials while your card is expired.

 

The parents or legal guardians listed on the account can access and update the account. They also have access to the child's information.

 

For children ages 8 and up:

 

We cannot tell you what your child has checked out without your child there, unless a fee is due.

RFID stands for radio-frequency identification. OPL puts RFID tags on materials so they can be read by checkout machines. It's how we check out your books!

 

The only pieces of information stored on the RFID tag are:

the item barcode

a security bit that indicates if the item is in or out of the library

.

Our library cards do not use RFID technology or smart chips. We do not plan to use RFID for library cards.