Congratulations to 2022 Oakland Youth Poet Laureate, Nadia Elbgal!
The Oakland Youth Poet Laureate program is an unprecedented citywide effort to celebrate literacy through poetry and connect young writers to far-reaching opportunities.
Each year we accept applications from talented Oakland writers (ages 13-18) to join a community of young poets.
We will begin accepting applications for the 2023 Oakland Youth Poet Laureate Program in January!
If you are interested in booking a poet for an event or performance, please fill out this form.
Note: Booking is handled by OPL's Teen Services Department and dependent on availability.
Please allow up to five business days for a response. Requests that are made at least three weeks in advance are more likely to be filled.
If you love Halloween but don't love to be scared, these silly and sweet books are for you! Boo!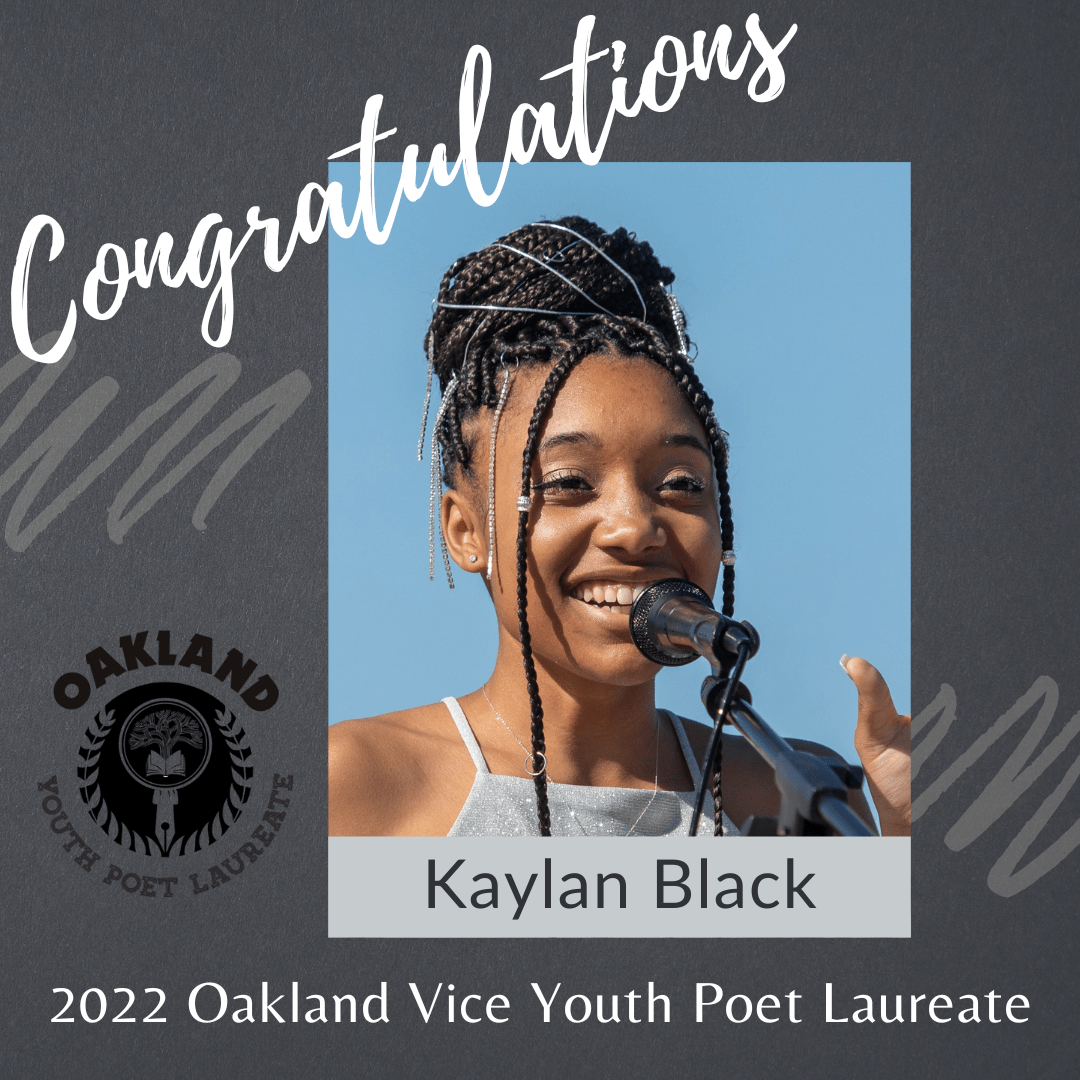 OYPL FAQs
The Laureate represents Oakland and its youth at public and private events and is a model for other youth. They also share their experiences with the press and through blogs, videos, and social media.   The Laureate will have the opportunity to develop their own poet-leader project. Everyone who applies will be invited to enter into a community of young poets and youth advocates.

You are eligible to apply if:

you live in Oakland
are between the ages of 13 and 18 on the day the application is due
be available to serve as Laureate for the program year, which means that you will live locally the whole year and won't be enrolled in college full-time during the whole  year (June - June)        

Once the application is live and we are accepting submissions, you'll find it linked on all the OYPL pages on the website. 

You can download the paper application as a PDF here now.

Applications for the 2022 Oakland Youth Poet Laureate will be open from January 3 to February 7, 2022.

There are two rounds of judging.

The first round is scored anonymously. The judges read the three poems you submit with your application and score them based on the Content, Craft, and Voice.

The poets who score the highest in the first round will move on to the second and final round of judging and be considered the year's OYPL Finalists.

In the final round, the judges score these Finalists on Performance and Leadership, based on the letter of support, the artist statement, any awards and community service, and previous involvement in the OYPL program, as well as a mandatory in-person reading and interview with the panel of judges in April. 

The Oakland Youth Poet Laureate will be the one poet who scores the highest total of both rounds. The Vice Laureate will have the second highest score.
What have the OYPL poets been up to?
The Oakland Youth Poet Laureate poets have accomplished so much. This community of amazing teens have shared their talents with Oaklanders of all ages, and with people from far beyond Oakland.
Please celebrate their words, their truths, their stories, and all that they've accomplished.
OYPL poets are able to perform, speak, host workshops, plan projects, & share their truths in many ways. See what they've accomplished!
Each year we have not only an Oakland Youth Poet Laureate and Vice Laureate. There are also Finalists who join our community of young poets.
Meet the incredible members of our community who judged this year's Oakland Youth Poet Laureate entries.
Subscribe to get occasional news about the
Oakland Youth Poet Laureate Program.
(Make sure to select Oakland Youth Poet Laureate in the Programs section.)